Home
 Welcome to my website!
I'm Jane Bennett Munro, author of the Toni Day Mystery series.
About the Author
Jane Bennett Munro was a hospital-based pathologist for 42 years, and retired 5-31-2019. Her novel, "Murder Under the Microscope," received a 2012 IPPY Award. Her novel "Too Much Blood" won a 2014 Feathered Quill Award. She is also the author of "Grievous Bodily Harm." "Death by Autopsy" is the fourth book in the Toni Day Mystery series,  "The Body on the Lido Deck" the fifth, and "A Deadly Homecoming" the sixth. Munro lives and writes in Twin Falls, Idaho.
About my latest book,
THE TWELVE MURDERS OF CHRISTMAS, published Oct. 23, 2020
Pathologist Toni Day and her husband, Hal, are mystified when she begins receiving grisly Christmas cards depicting murders, each accompanied by a twisted verse from The Twelve Days of Christmas. As she and her partners are inundated with autopsies on the corresponding bodies, Toni is thrust into yet another complex mystery. The victims are members of a jury that convicted Toni's ex-boyfriend, Robbie, of kidnapping and sent him to prison. Now that Robbie is out on parole, he is presumed to be the systematic killer who is eliminating the jury, one member at a time. But the true identity of the assassin becomes unclear when another parolee, a female police detective, and a newspaper reporter with an icepick get involved. To further complicate matters, Toni's parents decide to visit for Christmas. While Toni attempts to juggle her professional and personal demands, she partners with her stepfather, a retired Scotland Yard chief inspector, to interpret clues and assist the police. Now all she has to do is find the killer or killers before the entire jury is wiped out, and her own life is left perilously hanging in the balance.
In this fast-moving medical mystery, pathologist Toni Day and the Twin Falls police race to catch a parolee before he kills the entire jury that put him in prison, and then comes after Toni.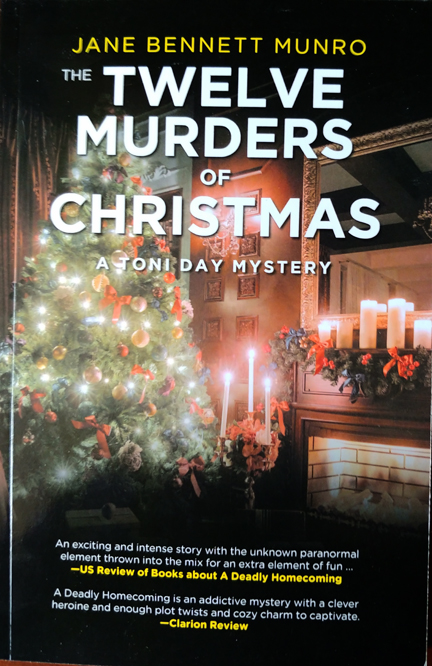 For more info about events related to this book, please see the book's own page.
-ENDS-