Too Much Blood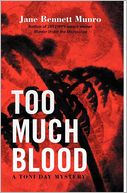 Too Much Blood is a gripping book that reveals how one midnight call drastically changes everything in the life of a brilliant and young female pathologist—leading her to a life-threatening situation. Between its covers, you will follow Toni Day as she must use all her expertise to unmask a killer and save herself and her loved ones from a gory death. Follow her as she attempts to uncover the truths of the suspicious circumstances and complex web of events and resolve the conundrum. Riveting and action packed, this book will take you on a mind-blowing journey of a lifetime!
Pathologist Toni Day returns in this gory tale of a sleazy lawyer and his scam involving the doctors at Perrine Memorial Hospital, in which their earnings go directly into his hedge fund via an offshore leasing company, avoiding taxation. That is, until the economy takes its worst dive since 1929, and Jay Braithwaite Burke's hedge fund is revealed as a Ponzi scheme. The Feds move in. Jay declares bankruptcy and disappears, only to reappear two months later, dead in his car in the middle of the snowy interstate.
At autopsy, Toni discovers that Jay bled to death. Shortly thereafter, Jay's partner also bleeds to death. Jay's widow and four children are kept on the move by a series of house fires, and soon everybody ends up at Toni's house. Toni's life is already complicated enough; her work schedule is brutal, and she fears that her husband, Hal, is having an affair. In the meantime, a mysterious illness casts a bloody pall over the Christmas season. Toni must use all her pathological expertise to keep her loved ones from a similar fate, and in so doing nearly comes to a bloody end herself. 
Too Much Blood was published by iUniverse July 19, 2012